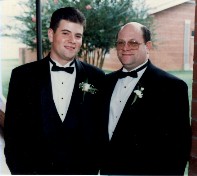 Gary and son Gary Jr. In Gary's words, "I kinda look like a cross between Curly (of the Three Stooges) and George Kastanza on Seinfeld. Suffice it to say, I don't look anything like my graduation picture. But then, who does nowadays?!!!"

Years Attended HHS/Graduated: 1968

Marital Status: Married (Ruth McInturff) 6-14-70

Children: Gary (25), married and living in Charlotte, NC; Karen (23), single first grade teacher

Career information: Safety/Risk Manager, Time Warner

Hobbies: Golfing, computers, teaching Bible classes

Fondest memory of Heidelberg:

Anything unusual or exciting events in your life since graduation that you'd like to share with the group: Got married in 1970, six weeks before going to Army basic training, and am still married. Went to Vietnam in 1972 (lost that war). Was selected as Noncommissioned Officer of the Year in 1977. Received a Letter of Commendation from President Ford (1975) for serving as an interpreter for the Vietnamese refugees in 1975. Went to Desert Storm with the 24th Infantry Division (Mechanized) right in the middle of it all (won that war). Have two wonderful children who worked their way through college, bought their own cars and paid for their own insurance. Was ordained a minister in 1983. Just recently found my long lost adopted sister after 33 years!