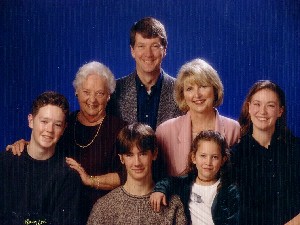 Brad, Kristine, Mary (Mom)
Tracy (21), Reague (18)
Ryan (16), Mahriah (8)

Years Attended HHS/Graduated: 1969

Marital Status: Married (Kristine), also a Neuropsychologist. First wife (Pat) passed away in an accident in 1996.

Children: two daughters & two sons, Tracy (21, a Junior at Swarthmore College) and Mahriah (8), Teague (18), Ryan (16, junior in high school). Mahriah simultaneously keeps me young and aging me rapidly!

Career information: Went to college at Rice University in Houston, majors in Psychology & Sociology, then on to Univ of Texas at Austin for a PhD in Clinical Psychology. Retired Army (20 years). Currently a Neuropsychologist in private practice, very busy and loving it.

Hobbies: Collectively, we own five cars and eight computers.

Fondest memory of Heidelberg:

Anything unusual or exciting events in your life since graduation that you'd like to share with the group: We are now living on 5.5 acres of forested land in the Great North West, in view of Mt. Rainier and the Olympic Peninsula--and, yes, we have plenty of room for visitors. Life is good.