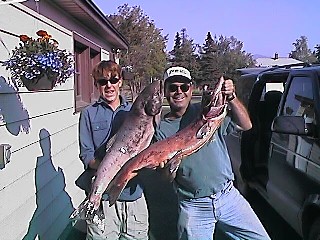 "What A Catch!" Michael and son. Picture was taken during a trip to Alaska summer 1999.

Years Attended HHS/Graduated: 1970

Marital Status: Divorced

Children: 1 son (attends University of Idaho) and someone of whom I am extremely proud!

Career information: Spent 3 ½ years in the service in the medical corp as a clinical specialist. BS Environmental Health, Colorado State University (1979). Worked for Hewlett Packard in Boise Idaho for 20 years, now retired Environmental Engineer. Currently a part-time consultant in Environmental areas and Financial Planning.

Hobbies: Enjoying life; personal finance and investments

Fondest memory of Heidelberg:

Anything unusual or exciting events in your life since graduation that you'd like to share with the group: I have moved about 100 miles north of Boise in a small beautiful resort town called McCall and live on a lake. My experience in Financial Planning has enabled me to retire early and play and just be the kid I have always been. People tell me I am too young to be retired, just turned 47, but I tell them they are too old to be working.